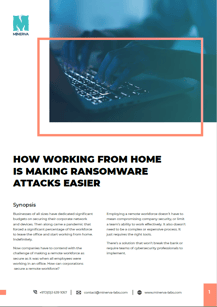 The era of the remote workforce has arrived.

So many of your employees are now connecting to your network from their homes or other locations outside your physical workplace. As an employer, you no longer have complete control over network traffic. This new reality has created an increased vulnerability to ransomware and other malware attacks. But there are ways to protect your remote users and your company.

A dispersed work force can still be a cybersafe work force.

This eBook gives you an overview of exactly how "work from home" compromises security.

Including
VPNs - not quite as private as you think
Keyloggers and Screen Recorders - remote data theft
Silent Endpoint Attacks - evasive malware hiding in your system


And of course, we cover how to prevent attacks, without asking your employees to give up their privacy, using
Minerva Labs' Remote User Protection.
Download the eBook now