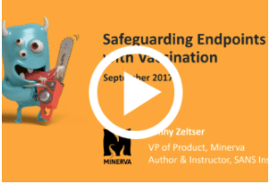 Many malicious programs leave infection markers on the endpoint to avoid infecting it twice and risk operational issues and detection. So far, most malware vaccination options have proven to be impossible to deploy on an enterprise level, without being intrusive on the endpoint, impacting system performance and interfering with other security tools.
In this session with Lenny Zeltser, our VP Product , you'll learn about:
Immunizing endpoints in moments by simulating infection markers across all enterprise endpoints.

Preventing variants of the attacking malware family from infecting additional systems.

Vaccinating endpoints without cluttering the system with unnecessary artifacts, without interfering with legitimate applications and without affecting end-users.